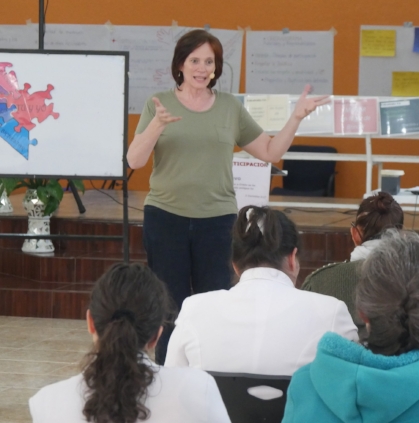 Carmen Ranalli Morrison, Ph.D.
Director of Training
From my earliest years in life, I have been drawn to hurting people with a deep love and passion to find a way to help them be whole. From defending kids from the kindergarten bully to supporting college friends recovering from rape, abortion, and suicide attempts, from counseling individuals and families in a Pennsylvania office to bringing healing programs to urban poor churches, my heartbeat has always been to be a channel of healing and renewal, hope and empowerment.
Reclaim Life replicates this pulse, equipping others with all that God has given me. Instead of being limited to one on one impact, I now get to be a part of a multiplying network of church leaders, individuals, and parents who are effective healing ministers in some of the world's least reached places.
One leader who teaches with an understanding of wholeness can change a church and one church that lives in healed joy can change a community; one parent who speaks healing life to their children can change a generation and a changed generation can change a society. I believe that this can be, and want to give my life, my abilities, my resources to making it a reality."
Education
Carmen received her PhD from Fuller Theological Seminary and is a licensed clinical psychologist with 22 years of clinical experience. She founded a private practice in 2006 in Boyertown, PA which currently employs 7 therapists, serving 330 clients in Southeastern Pennsylvania. She's a skilled teacher, presenter and trainer and has served as an adjunct professor for Liberty University and Evangelical Seminary. She and her husband, Bob, have lived and served in marginalized communities around Mexico City, Mexico since 2015.
Bob Morrison, M.B.A.
Director of Operations
"My life's passion is to come alongside other people and help them fulfill God's purpose for their lives. Whether helping grassroots ministries impact more of the world's poor or building up volunteers in locally planted churches, I love helping people discover and fulfill what God has uniquely shaped them to do.
Reclaim Life takes my passion to a whole other level. Helping people embrace their brokenness and walk a journey of healing, I see individuals break up the hard soil of their past. Roots of new growth go deeper. God's transforming love not only changes them on the inside; it touches their family and everyone around them. And when that change happens in a pastor or small group leader – the transformation spreads on an even greater scale."
Education
Bob received his MBA in Global Economic Development from Eastern University and has served ministries working with the poor in 13 countries worldwide. He has served in a variety of capacities planting churches and leading small groups over the past 17 years.